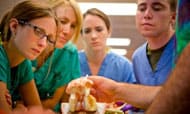 Physiology

About the Department
The pre-clinical department of Physiology deals with the normal functioning of human body. It forms the foundation of basic medical sciences along with anatomy and biochemistry. The Department of Physiology is situated in the 5th floor of academic block. It has a hard working team of faculty who are incorporating innovative teaching learning methods and assessment for the betterment of students.
The goal of teaching Medical Physiology undergraduate students is to provide a comprehensive knowledge of the integrated functions of the organ systems which in turn helps understanding the basis of health and disease. With respect to the knowledge domain, students will be equipped with the knowledge of the coordinated body function, the relative contribution of each organ system to the maintenance of the milieu interior, aspects of normal growth and development, physiological responses and adaptations to environmental conditions and the knowledge of the physiological principles underlying pathogenesis and treatment of disease.
With respect to skills domain the student will be able to conduct experiments designed for study of Physiological phenomena and interpret experimental /investigative data, distinguish between normal and abnormal data derived as a result of tests which he/she has performed and observed in the laboratory.
Departmental Focus
(Academics)
The new curriculum includes both horizontal and vertical integration with relevant clinical subjects. Using different learning methods- small group learning, clinical cases, tutorials, lectures, role plays and demonstrations, the course material shall be presented as an introduction to human physiological systems. Much of clinical medicine relies on understanding molecular, cellular and organ-system physiology and we take meticulous care to lay a strong foundation.
Our vision is to create a dedicated, competent and compassionate Indian medical graduate (IMG); whose goal is to serve humanity and to uphold the ideals of our noble profession.
Infrastructure
Lecture hall – 200 students
Demo rooms - 1 with Digital board , 1 with LCD projector
MEU
The faculty of physiology department are actively involved in the medical education unit activities.
Have successfully conducted Medical education CME MEDUCON ,which was presided by Dr Unnikrishnan the Dean Academic of KUHAS .Who also is a physiologist .The faculty has also coordinated various faculty development programmes like CISP And other orientation programmes for MBBS students
Faculties of the department are also updating and learning to keep abreast of the developments happening in the medical education by actively participating in different training programmes organised by the university and MCI.
Faculty of physiology Dr Ramidha VP presenting poster at ACME (Advanced course in medical education )nodal centre in GMC Kottayam.
Publications
Research Focus and Publications
Dr S Venkidusamy
1.Effect of glycemic control on the incidence of microalbuminuria in type II diabetes mellitus individuals
Naveen.p, venkatesan .R, Aswathkumar , Venkidusamy .S.
National journal of physiology, pharmacy, & pharmacology [2014]vol4 [issue2]132 –n 134
2. Effect of 12 weeks of pranayama training on basal physiological parameters in young, healthy volunteers
Dinesh.T, Venkatesan's, Venkidusamy.S,
PJMS. Volume 4 number1, jan –june 2014
3. Beneficial effects of sudarshnakriya in type II diabetes mellitus
Anupama, Varun Malhotra, Rinku Garg , Venkidusamy, ranganath
J of evolution of Med & Dent Sci/eISSN2278-4802 pISSN 2278-
4748/vol3/issue27/ july o7, 2014 page7492
4. A study of Autonomic functions in the patients of Episodic Migrane
Venkatesan.R, Naveen.P, MonaBedi, VP Varshney, Venkidusamy,S
National journal of physiology, pharmacy &
pharmacology/2014/vol4/issue2/160 – 163.
Dr Ramidha VP
1.Study on the need to implement mentorship for the emotional development among medical students .Ramidha VP ,Journal of Education Technology in Health Sciences, May-August, 2019;6(2):40-43 40.
2.Ramidha VP, NC Sebastin, Nisha Bhavani. Microalbuminurea in type 2 DM and its association with micro vascular complications. Indian Journal of clinical anatomy and physiology.2018
Mrs. Jithina
1. Effect of Forced Freshwater and Cold Water Swimming Stress Induced Changes in Selected Physiological and Biochemical Parameters in Wistar albino Rats. Published on May-June2015;6(3):750-754 in RJPBCS.
2. The effect of fasting during Ramadan month on stress score, spatial and verbal memory scores in healthy Muslim students published in Journal of Advanced Medical and Health Sciences.
Mrs. Pibini
1.Clinical profile of cases with ischemic heart diseases in women Pibini paul,Kumar Sai Sailesh,Mukkadan JK:Jpharm Sci Innov.(2015)4(5)251-254
Dr. Vinitha. V
1. V V, V JP, P G, T ASR. Audiological assessment in adults with hypothyroidism. Natl J Physiol Pharm Pharmacol. (2020), [cited January 02, 2022]; 10(3): 242-246.
Dr. Meenu Gopalakrishnan
1. Gopalakrishnan M, Kamalakshi TV, Geetha P. Insulin resistance and serum lipid profile in hypo- and hyper-thyroidism and their relationship with serum thyroidstimulating hormone levels. Natl J Physiol Pharm Pharmacol 2020;10(03):247-252.
Mrs. Shamnamoopan. K. A
1.ShamnamoopanK.A,Maryshalujose,Dr Anjana Krishna : Effect of Ramadan fasting on metabolic syndrome, vol 5-issue 3-march 2020,ISSN no: 205-209.
Mrs. Anjana Jose
1.Anjana Jose, Dr J.K Mukkadan, Dr Manju Kamal. Association of hypothyroidism in Type 2 Diabetes mellitus and Diabetic kidney disease. International Journal of Scientific Research /Vol9/Issue-2/February-2020.
Other Activities
Mentorship, Seminar, quiz competition, Still model presentation, Onam celebration, Felicitation.
MENTORSHIP
Students are divided equally among the faculty and introduced to the concept of mentorship. A facility which is made available to them for their academic and emotional wellbeing.
Apart from classroom interaction, students who require extra academic support are identified and tutorial classes are provided to enhance their learning abilities so as to cope with the academic requirements and expected outcomes. The student's progress report is periodically sent to the parents for information.
SEMINARS/Quiz
Seminars and quizzes are conducted within the department to encourage students. Students every year has highly appreciated this initiative. It brings about a competitive spirit among students and helps us to identify students with exceptional abilities.
STILL MODEL PRESENTATION
Students are given topics and motivated to bring out their creative talents. Best model is given a prize. Students are also able to use this for their university level inter collegiate competitions. Our student's achievement at the intercollegiate level is also greatly supported by the staff of the department.
Onam celebration
Department wise flower carpet competitions are held in the college. There is also a grand onam sadhya sponsored by the management for all the members of the Malabar medical college family
Department of physiology won the second prize in the flower carpet competition for 2 consecutive years.
STUDENT LEARNING ACTIVITY
1. Communication skills
Organized skit activity to show the importance of training in effective communication skills
Self directed learning:
Small group of students asked to learn about study objectives and present individually to the teacher evaluator.
3. Blood bank visit:
Students visited the blood bank and were oriented about the blood component separation and storage
4.Yoga and Meditation:
Conducted a session of Yoga and meditation to help students get oriented about the importance of yoga and introduce the effect of yoga on the physiological wellbeing.
5.Felicitation:
Cash prize is given to the student scoring highest mark in university exam in Physiology
6.vertical intergration
Vertical integration for clinically relevant topics are conducted monthly where clinicians from various specialties are invited to give insight on the topic
Physiology is involved in teaching of other medical and paramedical courses.
Courses
1. MBBS
2. BDS
3. Bsc Nursing
4. BPT
5. Bsc MLT
6. Bsc Optometry
7. DRT
8. DOTAT
ORIENTATION DAY
The first MBBS students are welcome into the college with a week-long orientation week coordinated with MEU .Several activities are organised to make it a beautiful experience for the student
DEPARTMENT CELEBRATIONS
Teachers day and Doctors day celebrations are celebrated to felicitate the teachers in the department
Dr Suja P a dedicated faculty of physiology department won the best teacher award for the basic science department 2 years in a row.