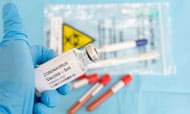 Microbiology

About the Department
Medical microbiology is a branch of medical science concerned with the prevention, diagnosis and treatment of infectious diseases. It involves adaptation of microbiological techniques to the study of etiological agents of infectious diseases. A clinical microbiologist is responsible for a wide range of microscopic and cultural studies in bacteriology, virology, mycology and parasitology. In addition, he is involved in performing various serological and immunological investigations for the diagnosis of diseases of both infectious and non-infectious etiology. The clinical microbiologist is often the most competent person available to determine the nature and extent of healthcare associated infections, the rational use of antimicrobials as well as public-health problems that affect both the hospital and the community.
The mission of the Department of Microbiology at Malabar Medical college and Research Centre is to impart quality education to undergraduate students, to train them in the discipline of Microbiology and to expand the body of knowledge of this scientific field through research.
Departmental Focus
Our primary mission is to focus on ensuring quality education to MBBS, BDS, BSc Nursing, BSc Optometry and BPT by using innovative teaching methods and thereby ensuring that the students passing out from the institution serve as competitive medical professionals.
We have a dedicated set of teaching faculty actively engaged in academic, diagnostic and research activities.
We design our academic curriculum with didactic lectures, practical demonstrations, interactive symposia, group discussions, OSPE, seminar and quiz as per MCI norms.
We take initiation in involving students for mentorship programme, which is actively going on at departmental level to create interest in the subject.
We are educating and training the next generation of scientists and educators who will lead the fight against infectious and immune-mediated diseases.
The diagnostic section of microbiology department strives to deliver timely reports to patients within turn-around-time. Our dedicated and competitive technicians are well acquainted with newer diagnostic techniques.
We participate in an external quality program affiliated to CMC Vellore (EQAS Program).
Infrastructure
The infrastructure of the department is spread out as two wings on the 4th floor of newly constructed college building, the academic wing and the diagnostic wing.
The academic wing of the department includes:
Demonstration rooms: Three rooms, each fitted with audio-visual aids and accommodates 75 students.
Practical Hall: With benches, fitted with shelves, cupboards, sinks, stain racks, microscopes and burners for the students and preparation room.
Museum: Contains a wide range of labelled specimens, charts and models with a seating capacity for at least 50 students. Twenty copies of catalogues for student's use are provided.
Departmental library-cum-seminar room: Contains about 120 books and can accommodate 25 persons.
Departmental research laboratory: Equipped with instruments and reagents for the use of departmental research activity.
The diagnostic wing of the department includes:
Separate service laboratories for
Bacteriology
Virology
Mycology
Parasitology
Tuberculosis
Serology
Immunology
Separate accommodation is also provided for
Media preparation
Storage
Autoclaving and discard
Washing & drying
Technician's common room
In addition to all the routine equipment, glassware, kits and reagents required in a microbiology diagnostic laboratory, our laboratory is equipped with state of the art equipment like,
VITEK 2 Compact – Designed for rapid and reliable identification and antimicrobial susceptibility testing, contributing to improved therapeutic success and patient outcomes.
BacT ALERT 3D – Automated, colorimetric rapid microbial detection system for blood and body fluids
Abbott Ci4100 – Provides enhanced efficiency in performing serological and immunological assays with greater speed, efficiency and reliability.
Publications
Publications
The publications in national and international peer reviewed journals by the faculty of microbiology include the following.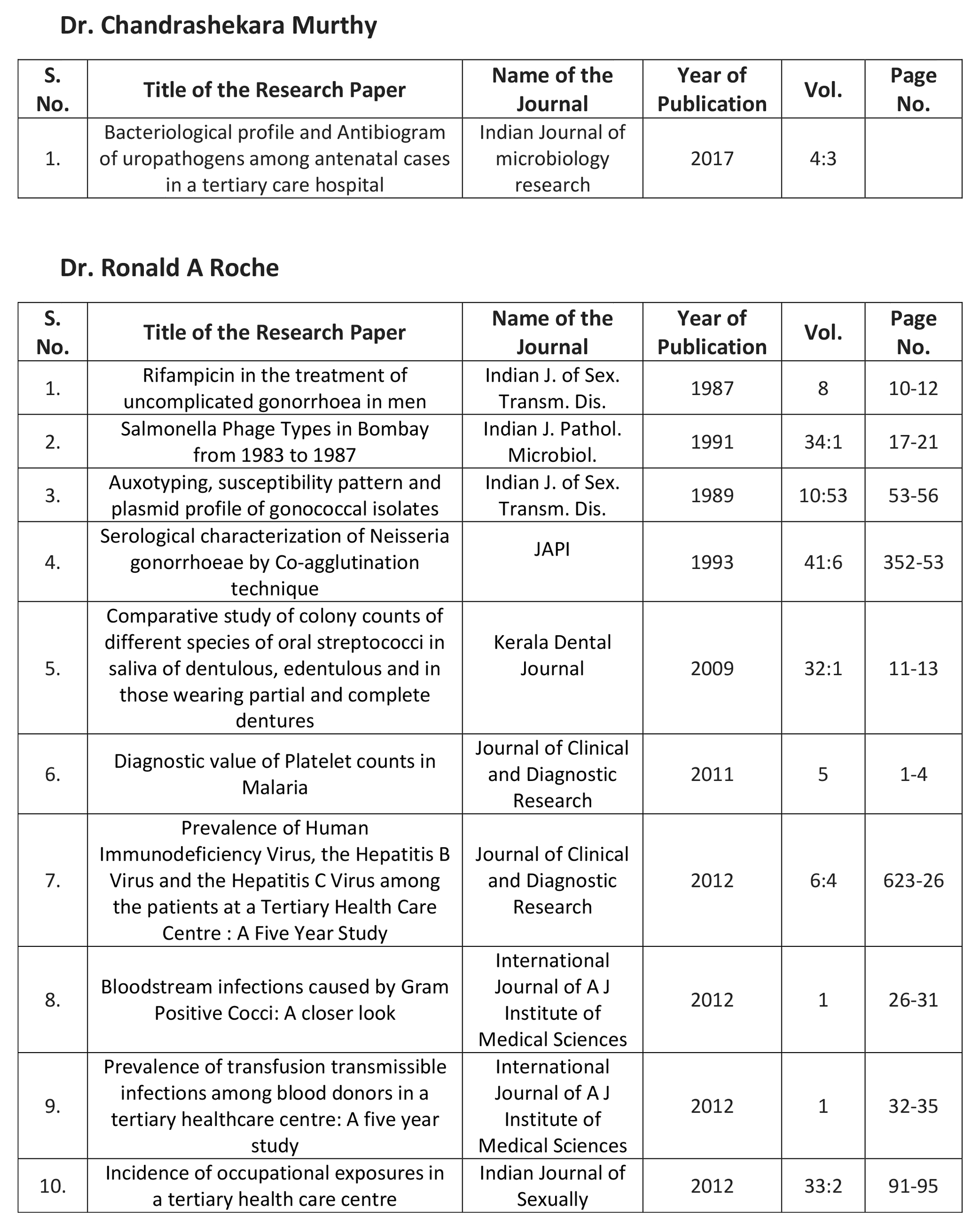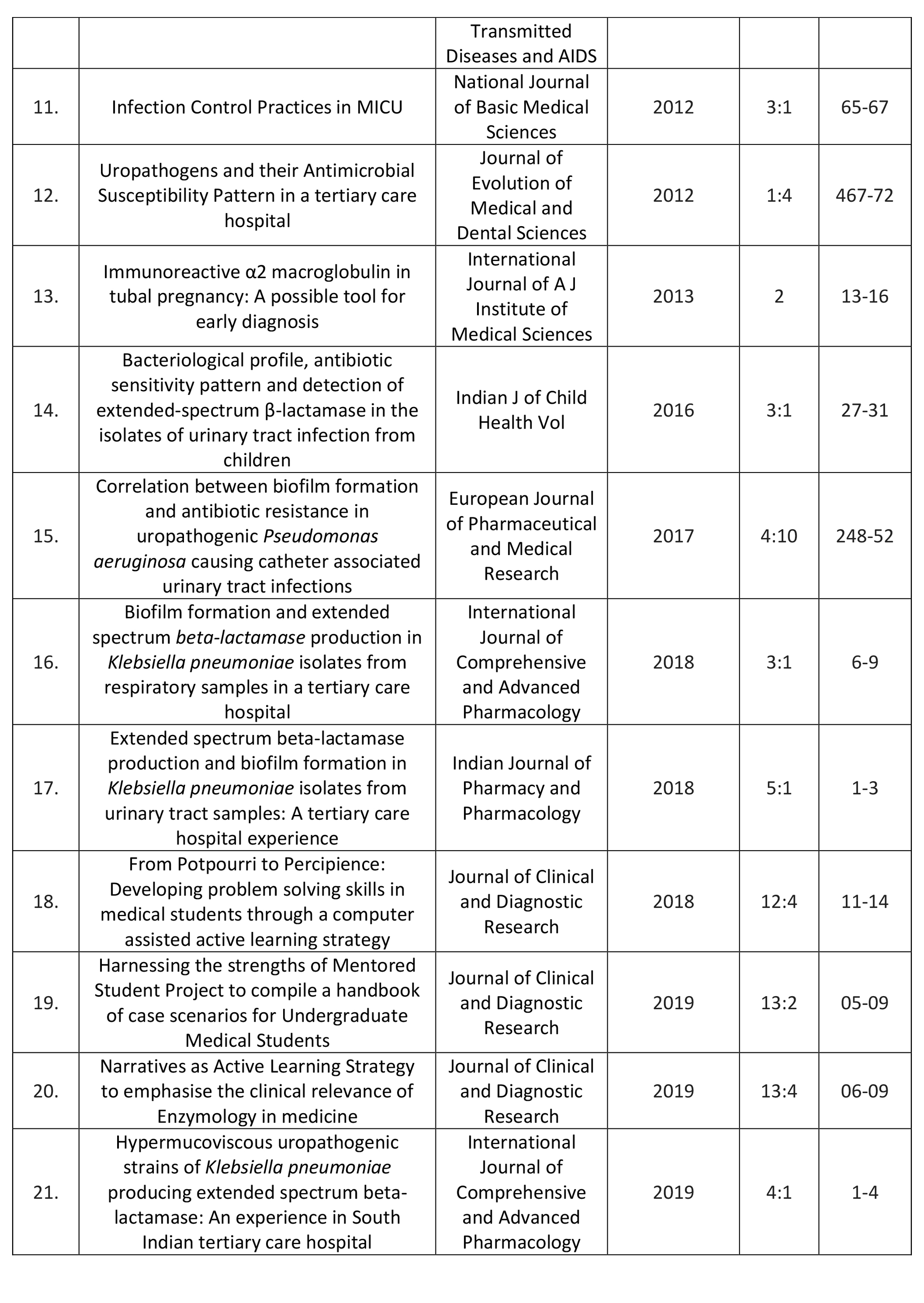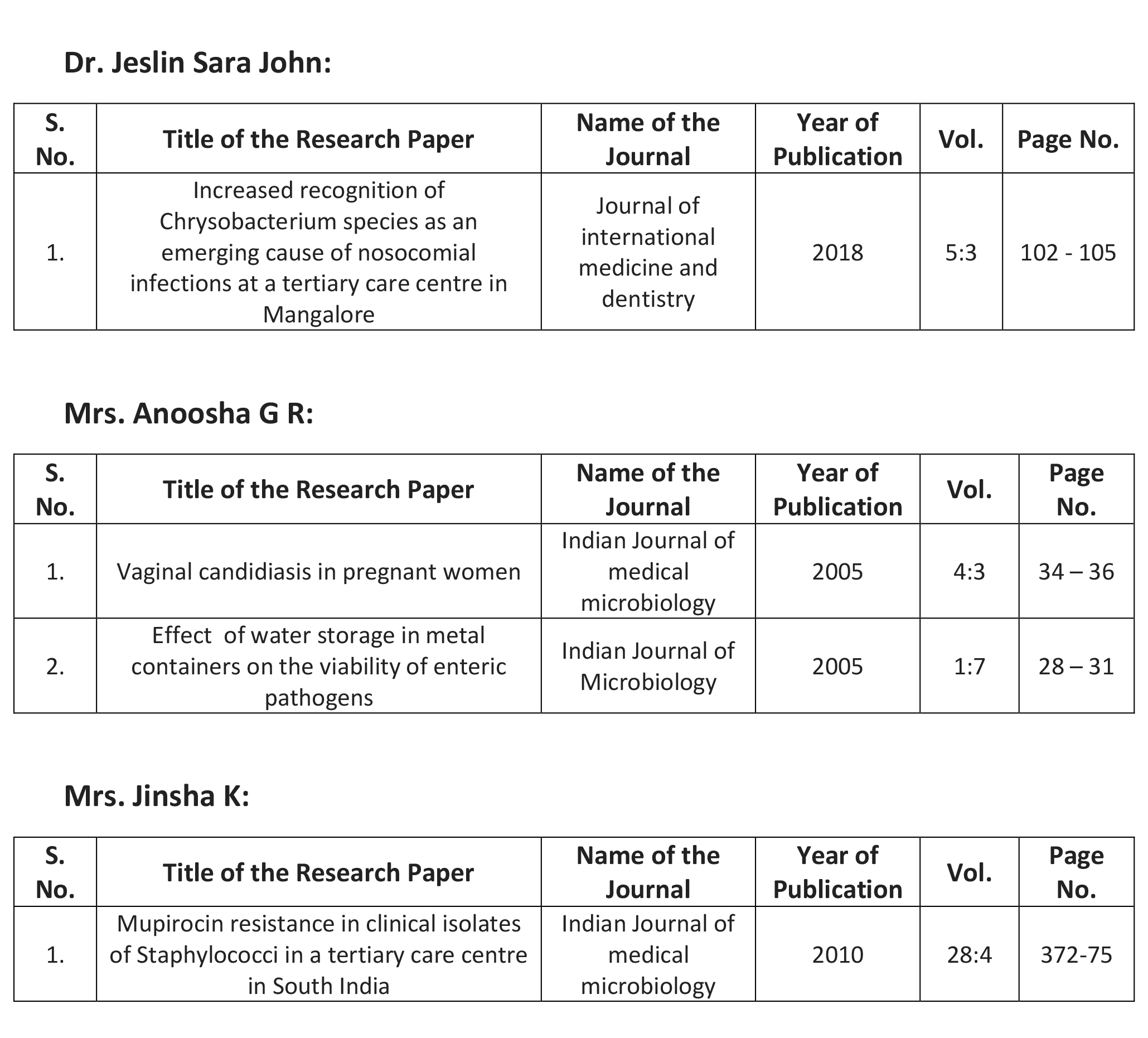 Research Projects
The microbiology faculty are keenly interested in carrying out research and are involved in the following ongoing research projects approved by the Scientific and Ethical committee.
1. Surgical site infections – Isolates and their antibiograms with special reference to MRSA
2. Phenotypic characterisation and serotyping of uropathogenic E. coli
3. Prevalence of AmpC betalactamase resistance in Enterobacteriaceae isolates
Microbiological pattern of ear swabs in patients with chronic ear discharge in a tertiary care hospital in South India
Multidrug resistant Acinetobacter and other Non-fermenters: A clinico- microbiological study
Other Activities
1. Our department is a designated microscopy centre for RNTCP.
2. Our department participates in ICTC program.
3. Our diagnostic laboratory regularly performs internal quality control and participates in External Quality Assurance Scheme (EQAS) of CMC, Vellore and consistently attains high scores.
4. Our faculty is actively involved in the instituitional CME programme conducted by Medical Education Unit.
5. We conducted a national level CME on "Basic science in oncological practice" on 3rd November 2018.
6. We are involved in spreading awareness to the public and the students by commemorating World TB Day, World Leprosy Day, World Hepatitis Day etc. We conduct awareness classes, poster making competitions, quiz and short film making on the concerned topics on these days.
7. Dr. Jeslin Sara John is appointed as the Nodal Officer for rapid antigen testing for Covid-19.
8. A molecular biology laboratory has been set up for Covid-19 RT-PCR testing.
9. Dr. Chandrashekara Murthy, Head of the department of Microbiology is actively involved in Institutional Ethics Committee and Anti-Ragging Committee.
10.Dr. Ronald A Roche, Professor of Microbiology is the chairperson of hospital infection control committee.
11.Dr. Jeslin Sara John is appointed as the hospital infection control officer.